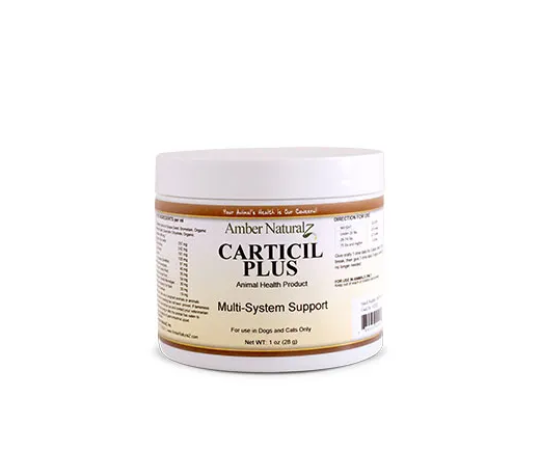 Carticil Plus (30g/1oz)
Best Before: 03/2024
Organic Carticil Plus is a multi-system support and detox packed with antioxidants.

As pets age, their joints may get stiff and soon your dog or cat cannot climb the stairs or jump in your bed any longer. The intestinal tract does not function like it once did. In fact, you may notice more gas, diarrhea and even vomiting. Carticil Plus can help. It helps maintain proper body functions and overall quality of life in canines and felines. Carticil Plus is great for rescues, older pets, and those that need additional tender loving.
Carticil Plus has sixteen natural ingredients blended together to help canines and felines maintain optimal health to keep them in peak condition.
Benefits of Carticil Plus:
High in antioxidants
Supports body to detoxify
Supports bone health
Supports cartilage and connective tissues
Supports bowel functions
Supports digestive functions
Supports healthy brain functions
Supports nerve functions
Supports cardiovascular functions
Supports body to detoxify
Supports a healthy immune system
Supports the inflammation regulatory system
Supports skin and hair

USAGE
| | | |
| --- | --- | --- |
| Weight | Scoop (2.5ml) | Number of servings per container |
| Under 12 lbs | 1/8 | 768 times |
| 12-25 lbs | 1/4 | 384 times |
| 26-74 lbs | 1/2 | 192 times |
| Above 75 lbs | 1 | 96 times |
Use orally not topically
Select proper dosage from the chart include.
General Use: Give 1 time daily for 3 days, take a 2 day break, then give 1 time daily 3 days a week until no longer needed. Or Give every other day until no longer needed.
Advanced Use: Give 1 time daily without breaks, if your pet needs extra support.
Be sure your pet has plenty of fluids to drink
Ingredients
Active Ingredients per 1/4 Scoop
"Proprietary Blend of (Grape Seed 3, Bromelain 3,4, Quercetin Dehydrate 3, Vitamin C 3,4, Cinnamon Bark1,3,4) 407 mg"
Chia Seed 1, 3, 4………………………………….…269 mg
Whey 1, 3……………………………..………………..209 mg
Apple Pectin 3, 4…………………..…………….….202 mg
Lecithin 3, 4………………………..……………….…122 mg
Glucosamine (shellfish) 3, 4……………………..61 mg
Shavegrass 1, 3, 4…………………………………….38 mg
Oatstraw 1, 3…………………………………….….….28 mg
Ginger Root 1, 3, 4……………………………………26 mg
Tumeric Root 1, 3, 4……………………….…………26 mg
Chlorella Microalgae 1, 3, 4……………………….22 mg
Slippery Elm Bark 1, 3………………………….…….10 mg
---